Description
CREATE PBR MATERIALS FROM ONE SINGLE TEXTURE
Creating PBR textures "seamless" with the appropriate parts for our floors or walls is a task that usually consumes a lot of time. When the objective is to create a texture of great quality it is usually worth the effort invested.
But, what happens if I need a quick solution? With this idea in mind I am working on a Substance file in SBSAR format that allows us to streamline this process and even automate it.
At the end of this page you will find a video where you can see the tool in operation.
This SBSAR file is currently in its early stages of development, 3D Collective is not responsible for any operating errors that may have and does not provide technical support on this free tool, if you want to help me improve it, do not hesitate to leave us your Feedback In the 3D Collective Official Group so we can continue working to improve this tool.
NOTE: In order to use this tool you need to have installed the free tool of Allegorithmic: Substance Player. Once installed simply double click on the SBSAR: 3DCollective_Texture_AutoTiler_v0.3.sbsar is included in the downloads of this product.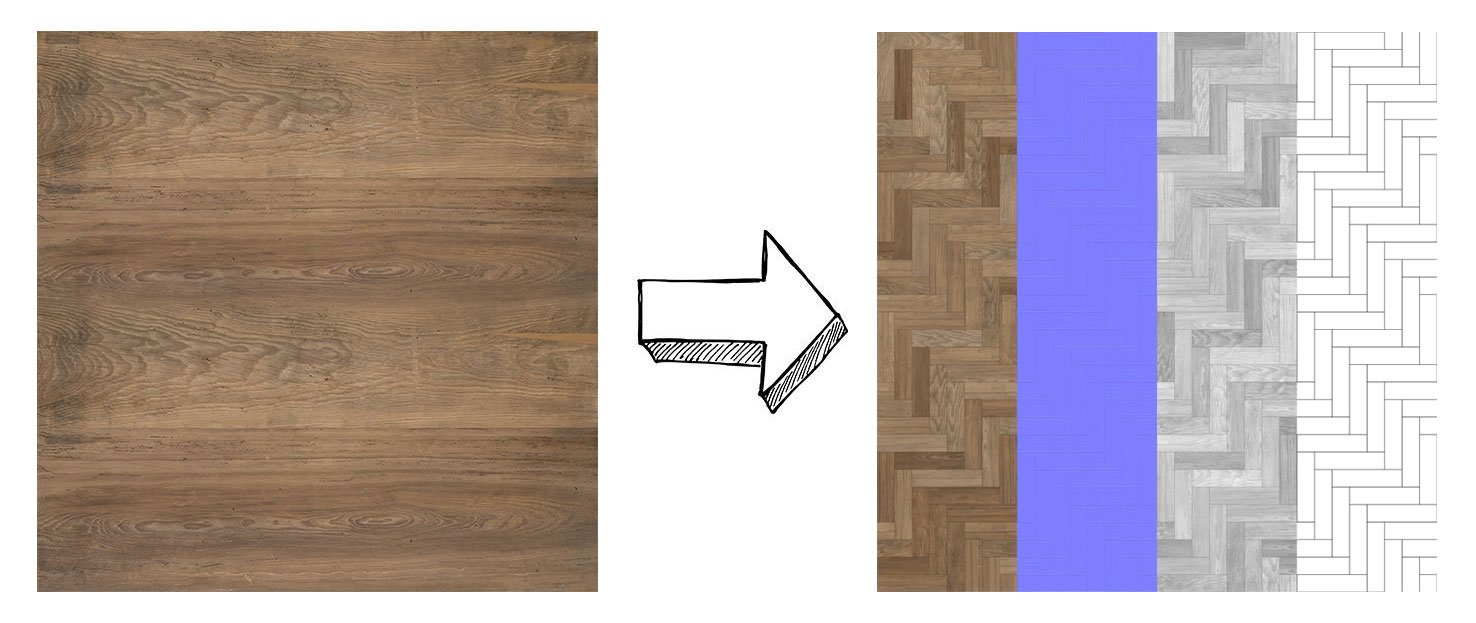 HOW DOES SBSAR WORK?
Step 1: Install Substance Player from the official website of Allegorithmic (It's free)

Step 2: Add this product to the cart (It's free)

Step 3: Once downloaded, double click on the file 3D Collective Auto Tiler v0.3

Step 4: Drag a SQUARE texture on Substance Player

Step 5: Set the material type (Materials> Default> Definitions> Specular Glossiness> Parallax

Step 6: Set the output resolution

Step 7: Adjust the options on the right to configure your texture (Video in Spanish on this page)

Step 8: Export your maps for use in your favorite render engine
In this video you can see the tool working:
CURRENT AUTO TILER FUNCTIONS
Convert the texture to "seamless" automatically
Light Equalicer
Previous tilting
2 Pattern types: Normal and Herringbone
Quantity of pieces control
Size and color of the board control
Random color variation for parts
Brightness, tone and saturation controls for the Diffuse channel
Dirt between pieces
Extra dirt between parts (in development)
Normal map intensity (NormalMap)
Bevel control on edges of each piece
Glossiness control (Quantity and contrast)
Ambient Occlusion (Optional)
FUNCTIONS CURRENTLY IN DEVELOPMENT
New cutting patterns
More options to control Glossiness
Automatic aging of the texture
More controls over the Diffuse
Improve the  the  pieces separation behavior
Custom bevelling with imperfections
Custom pattern by texture
Work with precision measurements in real units